September 18, 2019
5 Best Email Marketing Tools for Startups
"80% of business professionals believe that email marketing increases customer retention."
Startups rely a lot on
social media marketing
to make the most out of their business. New age marketing strategies like Instagram influencers and chatbots are also popular among brands. Though all contemporary methods of communication are no doubt effective, email marketing should not be forgotten. According to Hubspot,
"email generates $38 for every $1 spent, which is an astounding 3,800% ROI".
Setting up your personal email server can be complicated and costly, which makes it not a very good idea for startups. Using an email marketing tool is much easier and helps
scale up your business
. Here are 5 best email marketing tools for startups -
1. iContact
One of the best email marketing tools, iContact helps to create as well as track your email campaigns. With complete surveys, salesforce integration, autoresponders and market automation incorporated in the service, it is suitable for all types of business, including startups. An advantage of iContact is that the tool allows adding
social media platforms
like Facebook, LinkedIn and Twitter buttons to all bulk email campaigns that you're planning to send out. This provides an option to your customers to share updates or offers from your brand. [caption id="attachment_12525" align="aligncenter" width="500"]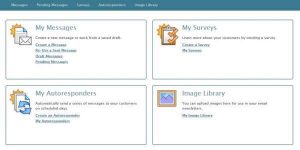 Source: PCMag.com[/caption] With iContact, you can also create, send and manage custom surveys and get feedback from your customers, thus building a two-way communication. This tool also helps in creating customized emails that would be ideal for your website. Accordingly, you can add images, text, hyperlinks, tables and other formatting features.
2. MailChimp
The only tool known for having a free plan, MailChimp is the largest email marketing service provider that is easy to use and affordable. It can be integrated with Magento, WordPress, Shopify and other platforms. MailChimp is also the only tool that has the option of a free plan, where you can send 12,000 emails to 2000 subscribers - thus making it ideal for startups, especially for the non-profit ones. The paid plan for MailChimp starts at $10 per month and above, based on your requirement. [caption id="attachment_12526" align="aligncenter" width="500"]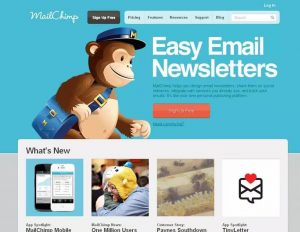 Source: Digital Guardian[/caption] MailChimp has an easy email creator, autoresponders, merge tags option, segmentation of contacts into groups and tracking and analytics. Mails can be scheduled based on the time zone of your contacts and the segmentation can be based on geolocation.
3. ConvertKit
A designer being the founder of this email marketing tool, ConvertKit has a great user interface that is easy to use and simple. Their plan starts with $29 per month for 1000 subscribers. It is also the only tool that will allow you to send unlimited emails to any given number of subscribers. This platform is extremely beneficial for product marketers and professional and startup bloggers for promoting their content and building an audience. ConvertKit is known to have the best delivery rate. A test conducted by EmailToolTester revealed that ConvertKit has "average deliverability of 92.1%". It is also popular for having a high conversion ratio. With auto-responders that are easily manageable, users can set up segmented drip email campaigns without any hassle. [caption id="attachment_12527" align="aligncenter" width="500"]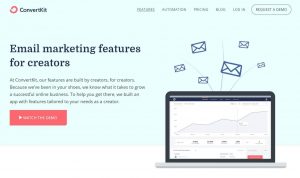 Source: ConvertKit[/caption] The only disadvantage of ConvertKit is that it does not have high customization automation options.
4. AWeber
AWeber is a cost-effective and easy to use email marketing tool. The platform helps you learn what can be done and what cannot be done, and the email campaign creator walks you through the process of setting up newsletters and signup forms. Apart from that, additional features like phone and email support, live chat, live webinars and tutorials make AWeber a very user-friendly email service provider. [caption id="attachment_12528" align="aligncenter" width="500"]
Source: AWeber[/caption] With AWeber, you can send plain text emails. These kind of emails have a greater chance of going in the primary inbox of Gmail. Given the fact that 90% of users have a Gmail account, this feature is indeed an added benefit for startups who want to build a loyal base of subscribers. The basic plan of AWeber comes at only $19 per month for 500 subscribers. Due to its high reputation and relation of trust with email ISPs for years, this email provider tool has high delivery rates and also helps achieve high open rates for your campaigns.
5. ActiveCampaign
ActiveCampaign comes with four different types of plans, for different kinds of businesses. The Lite plan works best for professional bloggers, startups and product marketers. The Plus plan comes with added sale automation features. For site messaging and predictive sending, there's a Professional plan and the last one is the Enterprise plan for brands who want to customize everything. [caption id="attachment_12529" align="aligncenter" width="500"]
Source: Newsletter Tools[/caption] With ActiveCampaign, you can add webhooks in automation, which will further help you to pass data to other tools. Apart from that, you can also set up SMS drip campaigns. ActiveCampaign tool is a smart choice if you have a lot of subscribers but also a cost restraint, and want to keep the possibility of CRM automation suite upgradation in the future while keeping the same database. Every startup can use ads, content and SEO to get traffic and make their brand popular. However, email marketing is important to nurture leads and keep customers engaged.
Email marketing
tools are not just pocket-friendly, they also make the whole process a lot easier and smoother. If you need any help starting off with email marketing, leave us a message and we'll get back to you!