October 23, 2019
5 Easy Hacks For Amazon Store Optimization
"According to Amazon, brand campaigns that drive consumers to Amazon Stores have a 22% better return on ad spend than those that simply link to product listing pages."
Amazon Stores allow brands to connect with customers in a way that other advertising options cannot. An interactive store acts as a branded site and provides shoppers with the opportunity to explore and discover your products. Apart from that, Amazon stores help you bring out your brand story, establish brand familiarity and make purchasing easier for customers.
Creating an Amazon store
is not enough, it is also important to optimize the store to make the most out of it. Here are 5 easy hacks that you can implement for Amazon Store optimization -
1. Optimize your page navigation title and meta description
The number one priority when it comes to Amazon is relevancy. In every Amazon store that you create, there is an option of adding a page navigation title and meta description. Ensure that this description provides a brief information about what users can expect when they visit your store. The title and meta tag description work like an "organic ad text" and if compelling enough, it can help increase the CTR in the search results organically. In order to rank your store in the search results, keyword optimization is a must. Make sure you do thorough research and use targeted keywords in the description. Apart from that, all titles and meta description should be relevant to each page, the same description should never be used on all pages.
Avoid fluffy phrases like 'No. 1 product' or 'bestseller' in the title and description as it can have a negative effect on the customers. The best way is to keep it simple and informational.
2. Pricing
"60% of all online shoppers worldwide say that price is the most important factor affecting their online purchase decisions."
In order to optimize your store, comparative pricing is a clever way to ensure a steady rate of conversions. When customers are informed about how much they are saving with every purchase, they are more likely to shop more from your store. There are two ways of showing comparative prices on Amazon - the 'was' price and sale price.
Seasonal sales are indeed one of the best ways to attract potential customers to your online store. Providing discounts always leads to an increase in sales. Pricing your products slightly lower not only attracts more customers but also helps in pushing out slow-moving products.
3. Experiment with page templates
Apart from Amazon's A+ content, the store pages are the platform where brands can unleash their creativity and experiment with different layouts to optimize the store for more conversions. You can create multiple sub-pages within the store and apply a different layout for each of these sub-pages.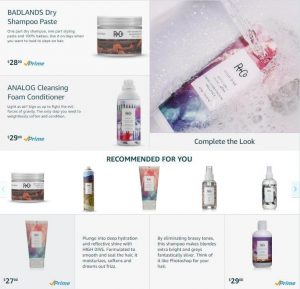 Check insights from Store Analytics for measuring and comparing the performance of each sub-page with different layout and templates.
Explore the best product placement option on the store pages. Choose which products to feature and the order that they should be placed in. These things will help you understand the most popular products among the customers and you can further use them for your ad creatives.
Use Store Tags and Store Analytics for identifying the best opportunities for sending Google and Facebook visitors to the best store pages. Test using different layouts, in the beginning, to see which works best.
4. Use Stores Insights to optimize ad campaigns
Amazon Store Insights provide a good understanding of your sales and traffic sources. Use these
analytics
to set up your ad campaigns to increase store visits and conversions. The way the ad campaigns are set up plays an important factor in its performance.
Amazon recommends the following tips for store optimization through ads -
Create different campaigns for different targeted keywords to get an idea about how each strategy is performing. This will further help you decide whether to increase or decrease the ad budgets for the next time.
All ads should have clarity, be focused and relevant. The more specific your ads are, the better are the chances of attracting customers to your Amazon store who are actually looking for your product.
Ensure to drive your leads to the specific store pages. Both ad campaigns and store optimization will be more successful when customers land on a proper page after clicking on an ad.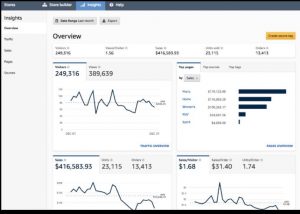 5. Promote your store pages on & off Amazon
Make optimum use of your marketing strategies to promote your store page on Amazon and on other channels too for maximum visibility. It can be done in the following ways -
Make use of Headline Search Ads for promoting your store to the potential audience. Headline Search Ads are the ones that appear above the search results on Amazon.
The product detail pages of products included in the Amazon store should include the store link.
Share the link on all social media channels and other marketing activities like blogs, PR articles, ads, etc.
Having an Amazon store for your brand is not just a trending feature, but more a strategy having a large impact on revenue. With proper store optimization, it can open doors for new possibilities in business and drive traffic, both on and off Amazon, to your entire product catalogue. You can also seek
professional help
in setting up your store. To know more about how Amazon Stores can benefit your business, leave us a message and we'll get back to you.