January 24, 2020
Increase Sales with Amazon Store & Know the Latest Features
A store is the centre of your brand experience on Amazon. It enables brands to create a rich shopping experience for customers for maximum engagement and profitability. The best thing about Stores is they are free destinations on Amazon to tell your brand story and showcase your products with curated content and multimedia assets. Before
creating a branded store on Amazon
, remember to build a strategy that will help you make the most out of it. The key pointers include -
Consistency with the tone, messaging and visual identity
Rich and engaging content to differentiate your brand
Thoughtful navigation for easy exploration and discovery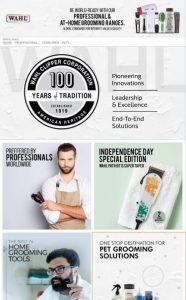 What's New in Stores in 2020:
Amazon released new store features in January 2020 in order to help marketers showcase their products and brand with more engaging and rich content experience. Here are the 5 new features that can further help in
optimizing your Amazon Brand Store
-
1. Shoppable Collection Images
With the help of shoppable images, it is possible to further pique the interest of customers with lifestyle shots, featuring your products in various settings. You will be able to make any product in the image shoppable, and a customer can click on that product to get basic information like name, price, ratings and availability on Prime.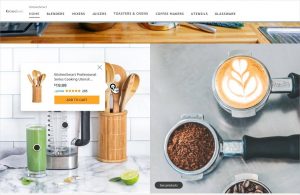 Source: Amazon Customers will also be able to add that product directly to their cart or get redirected to the product detail page, thus making the transition from interest to purchase smooth and easier.
2. Text Overlays to Images
This new feature allows you to add descriptive texts to your images, with the option of customizing location, size, colour and alignment for better descriptions or specific selections that you would want to showcase. Moreover, text on images will help improve the store's SEO, thus increasing store traffic from third party search engines.
Source: Amazon
3. Bulk/Out of Stock Product Management
Products can now be uploaded in bulk to the product grids as well as the 'featured deals' tiles. There is also the option of automatically hiding products that are out of stock, for better shopping experience for customers.
4. Store Scheduling
Plan ahead and publish store updates at the scheduled date and time. This way, you can manage your Store publishing schedule based on topical changes, new releases and updates. When you update the store, request for your preferred date and time when you want the changes to be live for your customers.
5. New Links to Store
Apart from the products featured on the landing page of your Sponsored Brand Ads, Amazon will now add your brand logo to the bottom of the page - clicking on which will redirect customers to your Brand Store. Therefore it is recommended to keep your brand logo updated in the Store builder, if not done already. Amazon is also under the process of experimenting with other ways to get shoppers to discover your Amazon store.
Increasing Sales through Amazon Store:
The concept of creating an Amazon store is to strengthen your brand positioning in the mind of your customers and provide them with an enhanced shopping experience. Another major advantage of Amazon Stores is boosting sales for your business. Take a look at how Amazon stores help in generating more sales -
Improved ACoS for Ads
ACoS or Advertising Cost of Sale is a metric for measuring Amazon sponsored products campaigns. Amazon marketers have always agreed that Amazon sponsored brands are the most effective way of marketing on the platform. It becomes all the more effective when combined with relevant target keywords and a store page to redirect the customers. Amazon has revealed that the ROI on advertising generated from this method has doubled the performance of offsite ad campaigns.
Curated Branding Experience
Customers previously did not pay much attention to the seller, they were interested only in the products. However, with so many reputable brands selling on Amazon, customers are also paying attention to the seller profile. Providing a curated branding experience to customers through a store helps build a loyal fan base while also helping your brand stand out. For example, LAC Taut, a skincare brand witnessed a 51% increase in units ordered after creating an Amazon store, compared to regular sales.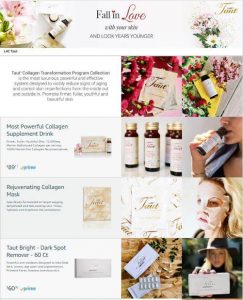 Source: Amazon
Funnel Sales to Yourself
For most brands, they are not the only sellers selling their products. There are other sellers like retail stores selling the same products. At times, these sellers may promote incorrect product information, low-quality or counterfeit products. This may lead to you losing out on loyal customers, who may start opting for your competitor's products. Having an Amazon store ensures that you have full control of your brand identity and product information. Customers will find it more reliable to shop from a store that ensures legitimacy and you can funnel sales of all your products in one place.
Metrics that Help to Boost Sales on Store:
Amazon Storefront Custom Source Tags
Amazon now provides the option of creating Custom Storefront Source Tags for tracking the resulting sales and traffic. This is indeed a great way to track the ROI of external traffic. To create a source tag, visit Storefront -> Manage Stores -> View Insights. This page gives you an overview of traffic, sales, page analytics and sources. Create a tag from Sources -> Create Source Tag. Amazon will then provide a specific link that can be used for every channel to track conversions.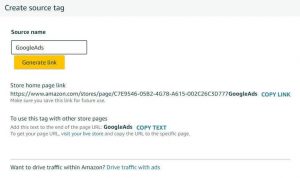 Source: semrush,com
Tip: It is recommended to create one-word Source Tags like GoogleAdWords or FacebookCampaign.
Amazon Storefront Traffic
View the traffic you get to your Amazon store from active and passive means and make adjustments accordingly -
 Headline Search Ads - Traffic generated from Headline Search Ads on Amazon
 Organic Traffic - Traffic generated within Amazon, including search results & detailed page links
 Tagged Sources - Traffic that is tracked with the help of custom source tag
 Others - All uncategorized traffic sources
Amazon Storefront Analytics
Get access to important Analytics like -
 Daily visitors - Unique users/devices that visited your store in a single day
 Views - Page views (including repeat views) during the time period
 Sales - Estimation of total sales generated by visitors within 14 days of their last visit
 Units sold - Estimation of total units purchased by visitors within 14 days of their last visit
Leverage the power of these metrics and analytics to not only capture organic traffic but also drive external traffic to the storefront. Getting your products in front of your customers and guiding them to make a purchase is an integral part of your Amazon strategy. Amazon Stores form an important part of this strategy. Stores are easy to build and update and great for increasing brand engagement, driving traffic and sales along with brand promotion. To know more about Amazon stores or if you
need help
to set up one, leave us a message and we'll get back to you!