March 19, 2020
Introducing TikTok: The Trending Gen Z Social Media Platform
Ever thought of participating in the #SwagStepChallenge by Pepsi that garnered more than 4.5 billion views & 1 lakh user-generated videos on TikTok?
Think that's just a waste of time? Did you know celebrities like Tiger Shroff and Disha Patani had also participated in the challenge?
Introducing TikTok
:
Teens love it. Adults think it's a waste of time. You can find it funny, you can find it cringy, but you cannot deny its craze and popularity.
Move over Snapchat and
Instagram
, TikTok is the newest contender in the social media game. It is the most downloaded app in the world, with the motive
"to capture and present the world's creativity, knowledge, and precious life moments, directly from the mobile phone. TikTok enables everyone to be a creator, and encourages users to share their passion and creative expression through their videos."
History of TikTok
2014 saw the introduction of the app Musical.ly that became very popular among the younger generation, 13 to 18 years old to be precise. The app allowed users to create dancing and lip-syncing videos. Musical.ly had 200 million + users by mid-2017.
A rival app to Musical.ly, Douyin was launched in China in 2016 by ByteDance. It was rebranded a year later as TikTok for international markets. Musical.ly was later acquired by ByteDance in 2017 and the two apps were merged together, under the name TikTok.
At present, TikTok is the 6th largest social network, available in 150+ countries, with more than 1 billion users. The app allows users to create comedy, short lip-sync and talent videos, with the option of filters, music, effects and easy edits.
TikTok in India
"India has the fastest-growing TikTok market with 467 million downloads."
[caption id="attachment_13956" align="aligncenter" width="700"]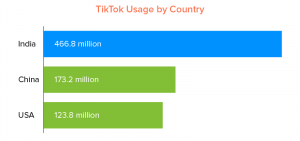 Source:
App Inventive
[/caption]
Even after facing a temporary ban in India at the beginning of 2019, TikTok is considered to be the breakout app of the country, with regards to growth. A probable reason for its virality could be the fact that cinema, glamour and popularity have always been a fascination here. The mere idea of mimicking favourite stars, lip-syncing their dialogues or dressing up like them provides a sense of stardom to people that otherwise wouldn't have been possible.
Generation Z & TikTok
66% of TikTok users are less than 30-years-old, while 60% of the app's monthly users are between 16 and 24 years.
TikTok has managed to conquer the minds of youngsters in a way that no other platform has done so far. The creators chose users under 18 as the target audience while creating the app, by understanding the preferences and habits of Gen Z. With the ability to create as well as share such a variety of videos, the young generation now has a platform to creatively express themselves.
[caption id="attachment_13957" align="aligncenter" width="700"]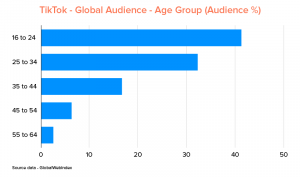 Source: App Inventive[/caption]
Millennials and GenX primarily use social media to remain updated with the latest news, share snippets of their daily lives or to share opinions. However, for Gen Z, social media is a place of pure entertainment, somewhere they can get rid of their boredom. It seems like they found the solution in TikTok - with funny video skits, memes, hilarious dancing to tracks, getups in weird costumes and awkward interactions.
Every
social media app
has a certain classification - Facebook for moms, Twitter for intellectuals, Instagram for the millennials and LinkedIn for professionals. Moreover, every platform has a dominant age group. For Facebook and Instagram, the largest user group is between 18-24 years, for Twitter, it is 18-29 years, and for LinkedIn, 30-49 years.
Where does this leave generation Z, the ones who are 13-24 years old? There is the option of Snapchat, but the platform focuses more on images and videos with camera filters and stories. TikTok, on the other hand, is much easier to use and users can instantly create and publish videos, which takes a little more effort on Snapchat.
What made TikTok the new social media sensation?
Here are a few probable reasons why TikTok rose to popularity -
1. Closing down of wine
Vine was a similar video creating app that had around 200 million monthly users. Moreover, 28.1% of the users were in the age bracket of 18-24. The app was shut down in 2016, and its user base migrated to either YouTube or TikTok. In other words, the void for short videos that was created with Vine closing down was filled by TikTok.
2. Variety
One of the biggest advantages of TikTok is you can post on any topic. Be it humour, photography, dance, fitness, music or travel - every category is available and also gets a lot of attention and engagement. Apart from that, TikTok can be considered to be a global app due to its variety of genres - be it Bollywood songs, hip hops, indie rockers or K pop. One can also create mashups in these sub-genres, which turn out to be both funny and engaging.
TikTok is a vast market for users who are looking for a distraction or some kind of micro entertainment sometime during the day.
[caption id="attachment_13958" align="aligncenter" width="600"]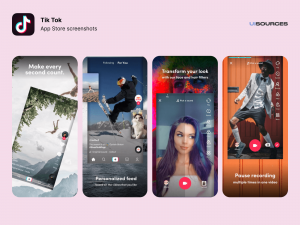 Source:
Webflow
[/caption]
3. Captures Interest
Gen Z has an attention span of 8 seconds while for millennials, it's 12 seconds. TikTok has a user experience that is to-the-point and visual. The app has successfully managed to grab the attention of youngsters with its extremely user-friendly interface and creative concepts.
What's popular among users on TikTok?
Though there is no fixed way to use TikTok, the most common formats popular among users include -
TikTok Trends:
Trends or Challenges involve a popular
hashtag
or song. These trending tags encourage users on the platform to try dance moves or create their own version based on a particular theme. For example, Zomato started the #ZomatoRideToFame trend for their delivery partners to showcase their talent by singing or dancing. They even provided an incentive of prizes worth Rs. 1 lakh to encourage more participation. Even after not posting regularly or not having a huge follower base, Zomato achieved 339K+ views for the campaign.
[caption id="attachment_13959" align="alignnone" width="450"]
Source:
Socialsamosa
[/caption]
Duets:
A collaborative feature on TikTok, duets allow users to use another person's video and add themselves to it. It can be genuine collaborations, spoof, remixes and others.
Cringe Videos:
Videos with awkward scenarios or performances that aim to make the audience cringe. These videos are always funny and embarrassing but tend to have high views. 
React Videos:
The React option allows users to record their reaction while watching a video and then overlay it on the video they are watching to play alongside.
[caption id="attachment_13961" align="aligncenter" width="549"]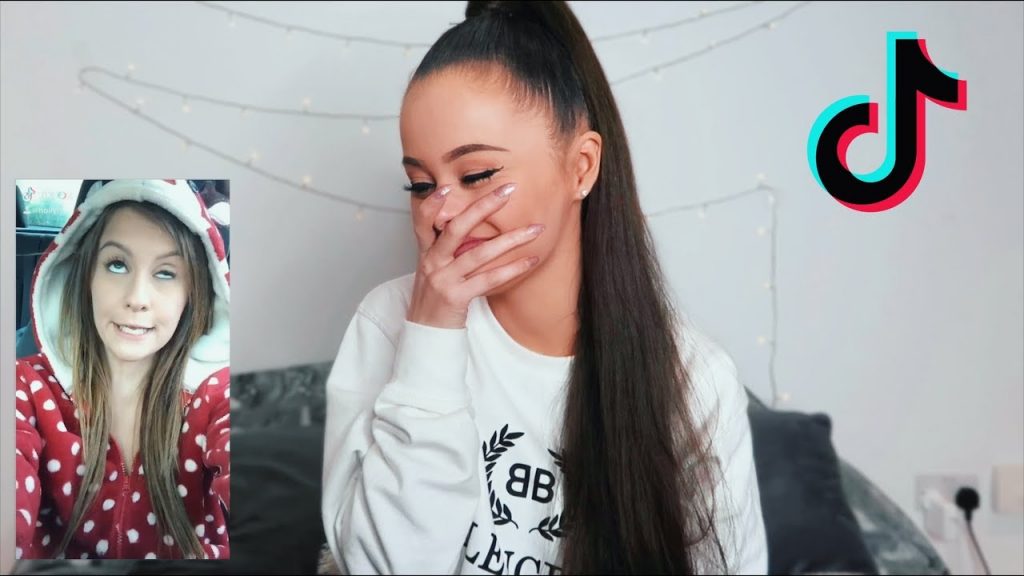 Source:
YouTube
[/caption]
TikTok as a Marketing Platform
TikTok as a marketing platform has been slowly gaining popularity among marketers due to its content-based tools and techniques that ensure brand growth. The platform also helps target a younger audience, maybe even the ones you are unable to target on other social media platforms. Promoting a brand on TikTok is highly effective to get maximum reach and engagement with minimum investment.
As a
social media marketing
platform, TikTok provides a more relaxed and enjoyable user experience and can help build a strong follower base, increase awareness and get more people talking about your brand. Moreover, TikTok has been labelled as a platform to show your real side and authenticity - which can be a great strategy to rule on this platform. To know more about TikTok as a marketing platform, leave us a message and we'll get back to you!