April 26, 2019
Refocusing a traditional product to a millennial audience & building brand consideration.
KLF Nirmal
is a pioneer in the Indian coconut oil industry, with over 75 years of experience. KLF is a household name in India and produces the best range of pure and natural virgin coconut oil for consumption, beauty and babies. KLF is also a manufacturer of products such as Cocosoft- handmade coconut soap; Coconad: coconut milk powder; Coconad: coconut tender water; Coconad: coconut natural sugar to name a few.
Objective:
To keep up with the pace of today's digital era, KLF Nirmal had to increase its brand exposure and broaden customer reach digitally. We were given the key responsibility of developing their website, increasing visibility on social media platforms, maximising customer reach as well as optimising and driving traffic to their website.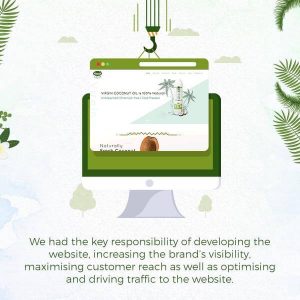 The Challenge:
Coconut oil has long been a part of Indian heritage, however, Virgin Coconut Oil was relatively unknown in the market. Our challenge was to carve a niche market by establishing the distinction between virgin coconut oil and ordinary coconut oil. Coconut oil was already popular as a hair treatment but we had to create a market for consumption as well. Building brand recall and consideration in a highly competitive market was a challenging task.
Strategy:
1.Establish position as a market leader in innovation:
As a market leader in product & innovation, it was no surprise that KLF Nirmal was up to set an industry standard by creating a one-of-a-kind website. We envisioned the website to encapsulate the naturalness of the product in its entirety. This is why coconut is the entire focus of the website. There are very few other elements which point subtly to the product having no additions whatsoever. The easy navigation, interesting UI and relevant information keep visitors on the hook.
2.Create a market for virgin coconut oil:
Selling coconut oil would have been relatively easy despite the competition - most Indians are familiar with and use coconut oil on a semi-regular basis. Selling virgin coconut oil was much harder. Since health is gaining priority, with Indians looking for more and more ways to incorporate ways of healthy living, we concentrated on creating a new segment in the market. This involved extensive education about the processing, benefits and uses of VCO through blogs, articles, conversations and even videos.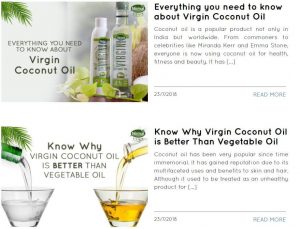 3.Engage through content:
Our strategy was unapologetically content-first. At first, it was to educate the audience and later it was about engaging the audience. We found that contests really excited our audience and enabled us to have many conversations with them. Contests with discount coupons as prizes also enabled us to impact sales and promote trial of the product. We received 16 sales just from contests in 2 months. Positive reviews, feedback and re-orders were simply a bonus.
4.Expand Reach through an Influencer Program:
Instagram has recently blown up in India, we were keen to try out the impact influencers could have on our reach. We consciously decided to partner with niche influencers (influencers with a smaller group of followers) as opposed to those with millions of followers. Our strategy was to conquer the Indian market, while continuously improving our product. Partnering with niche influencers on a barter basis allowed us to keep costs low and the conversion rate high.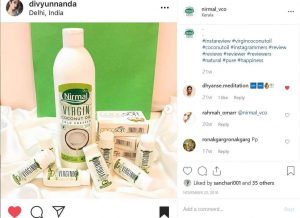 5.Paid Campaigns:
We ran various ad campaigns on social media in the course of a year to boost the audience, reach, engagement and website traffic. Our strategy was to first build a community on social media and then direct them to become active users of the website and thereby leading to sales.
The Impact:
Identifying and tracking each activity is extremely important to make a campaign successful and even better in the long run. Since the launch of the page, there has been a consistent rise in the number of followers, reach and engagement on social media.
In the span of a year, we increased followers by 1013%, reach by 4100% and engagement by 657%.
Our goal of converting engaged social media users into active website users was also successful with a 478% increase in users from social media in the month of March, 2019.
Total website users are increasing month on month by an average of 4%. So far, we have received 100% positive reviews on social media and 84% positive reviews on Amazon.in.
In the span of 1 year, we have managed to build a highly engaged community on social media and convert them into loyal users of the KLF Nirmal brand through various techniques. The next steps are to conquer the eCommerce platform and drive sales through social media.