April 29, 2019
5 Election Campaigns That Created the Right Buzz on Social Media
With the ongoing Indian General Election all set to decide the future of the nation, excitement has reached fever pitch on
social media
. While political parties are ensuring optimum use of social media, brands have also joined the bandwagon by conceptualizing creative election campaigns. With the motive to drive a positive change and bring about a difference in society, along with combining their brand philosophy, marketers have done their best to especially target the youth and the millennial generation.
Here are the top 5 social media marketing campaigns surrounding the elections that have created the right buzz on social media, till date-
1. Samsonite - #EkDinKiChutti
The leading luggage manufacturer, Samsonite conceptualized a two-minute digital film that urged the working population to take a day off, get back home and cast their vote. In order to make it big in life, a lot of professionals move out of their own cities and eventually miss out on voting. The
video
reminds people of the basic duty they have towards their nation. It shows a young professional taking a day off from work and visiting his hometown to vote. The video questions people that if they can take a leave and come home for festivals like Diwali, Eid and Christmas - why shouldn't we do the same for voting? [caption id="attachment_11548" align="alignnone" width="500"]

Source: Facebook[/caption] The video garnered 3.1M views on YouTube, 13M views on Facebook, 120K reactions, 1.4K comments and 24K+ shares. The campaign surely added another feather to the brand's cap when it comes to social responsibility. Watch the video here -
https://www.youtube.com/watch?v=BPBJH9FUZSE
2. MTV India - #VoteBecauseYouCan
The global youth brand went a notch higher by going beyond the stereotype and showcasing real stories from all over the world. It published a series of videos about youths from places like Syria, Iraq, Somalia, Sudan and North Korea - people who are not empowered with the right to vote. The campaign drives a strong message to young Indians to respect the privilege they have and make use of their democratic power and go out to vote - because you can. [caption id="attachment_11549" align="alignnone" width="500"]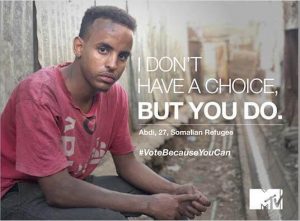 Source: Exchange4Media[/caption] The series witnessed almost 6M+ views on YouTube, 1464K+ views on Facebook, 3499K reactions, 400+ comments and 1.8K shares. The videos were also showcased on television and received a lot of positive response. Watch one of the videos here -
https://www.youtube.com/watch?v=dupaB2668vs
3. Flipkart - #EqualsDay
Keeping up with their reputation of progressive storytelling, Flipkart launched the #EqualsDay campaign for the ongoing elections where the brand emphasizes the fact that every vote is equal. Differences in opinions, ideologies and choice of political parties often lead to heated arguments even amongst families, friends and colleagues. However, everyone gets the right to give just one vote, which makes all of us equal. [caption id="attachment_11550" align="alignnone" width="500"]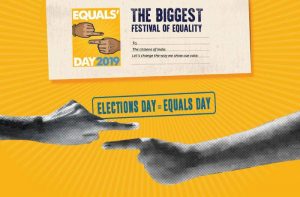 Source: Flipkart Stories[/caption] Flipkart's social media marketing campaign on elections gathered 11M+ views on YouTube. Facebook witnessed 1.4M views, 6.2K reactions, 1K+ comments and 800+ shares. Watch the video here -
https://www.youtube.com/watch?v=axqVp2kus4A
4. Humain Diagnostics - #MarkOfHealth
India's first AI-powered diagnostic chain, Humain Diagnostics came up with a unique campaign of providing a free haemoglobin test to everyone who displayed their vote mark at their customer experience centres in Bangalore. The #MarkOfHealth campaign not only delivers the social message of encouraging people to vote but also rewards every citizen who does so by bringing them a step closer to good health. [caption id="attachment_11551" align="alignnone" width="500"]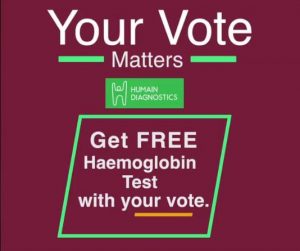 Source: Facebook[/caption] The brand published 3 short videos where people talk about why they should vote, and why it matters. Watch one of the videos here -
https://www.youtube.com/watch?v=AIAcXYjALQ8
5. Castrol Activ - #RideForVote
Encouraging the youth to "Give a ride, help cast a vote", Castrol Activ's election campaign encourages young riders to do their part and bring a positive change in the country. The video starts with a few young riders seeing a low voter turnout due to extreme heat. So, taking the responsibility upon themselves, these young bikers give a lift to different citizens and bring them to the booth so that they can cast their vote. The brand successfully positions itself as a trusted partner of the youth who is responsible and self-aware. [caption id="attachment_11552" align="alignnone" width="500"]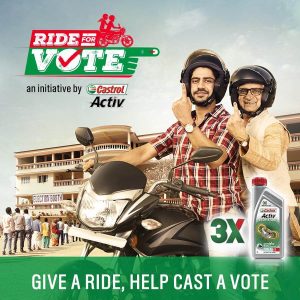 Source: Twitter[/caption] The campaign witnessed 5.3M views on YouTube and 1.9M views on Facebook. Watch the video here -
https://www.youtube.com/watch?v=bJ5pY8CXJCk
The magnitude of this national event has indeed managed to bring out the creative aspect of brands this election season with the best social media marketing campaigns. Which is your favourite election campaign? Tell us in the comments section below.