April 04, 2018
April Fool's Day 2018: The Pranks Brands Played
"If you have anything important to tell me, tell me tomorrow cause I won't believe you today."
This is exactly what everyone believes in on April 1st - April Fool's Day. You may strategize and plan the best pranks to trick your friends, but you're not the only one. Brands have taken up this day as a wonderful opportunity to connect with their audience. Moreover,
social media
is the best platform to showcase such creativity - pranks that look so real that its difficult to believe they're unreal.
Here's our take on some of the best April Fool's Day pranks by top brands -
1. McDonald's India
The iconic fast-food brand, whose burger and fries are a great hit among both children and adults posted a contest on April Fool's Day. The interesting part was that the brand also gave a hint on how to win! The prize of the contest was 'free supply of fries for a year' with the hint - "You may want to look on the upper left corner" of the creative they posted.
The upper left corner of the image read 'Check out on the right bottom corner'. From there the users were directed to 'Find the code at the left bottom corner' and ultimately to 'Use code - Happy April Fool's Day.'
The post featured on Facebook, Twitter and Instagram. It fetched 2400 reactions on Facebook, 600+ comments and 100+ shares, 8000+ likes on Instagram.
2. NetFlix
The American entertainment company, Netflix announced on April 1 that they had acquired not a company, but a person - Seth Rogen.
The statement read that Netflix had acquired the "world-renowned Canadian, prolific marijuana-doer, and winner of the 2015 MTV Movie Award for 'Best Kiss,'" Seth Rogen. They also published a fake video and press release on Twitter where Seth Rogen read out the terms and conditions of the contract - which stated that Rogen's 'full ownership of his personal autonomy' would be transfered over to Netflix.
The post received 9.3K likes and 1.9K retweets on Twitter.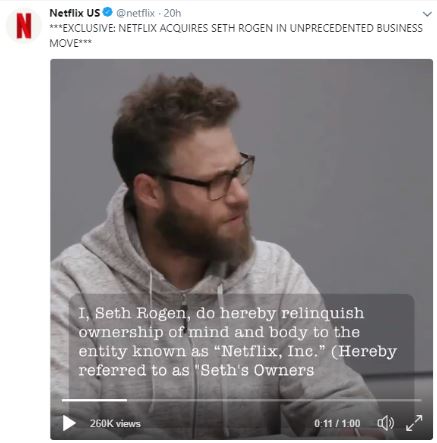 Netflix, India also pulled out a prank on Narcos fans by releasing a teaser of season 4 of the crime drama series, that would never come. The video received 11,000+ reactions on Facebook, 5000+ comments and 5200+ shares.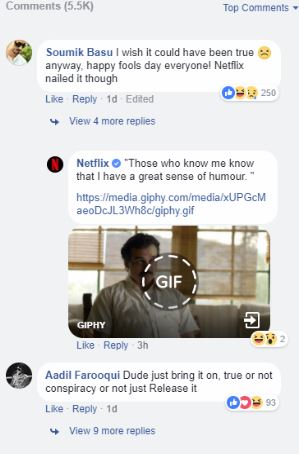 Watch the video here:
https://www.facebook.com/NetflixIN/videos/1595071397273261/?brand_redir=6275848869
3. Reliance Jio
Keeping up with its popularity, Jio made a commercial #JioJuice, which tricked people into believing that they are launching a technology known as Jio Juice where smartphones can be charged wirelessly using a special sim card.
The video received 318K views on Facebook, with 12K reactions, 2000+ comments and 5400+ shares. On Twitter, it received 675 replies, 1100+ retweets and 2700+ likes. YouTube received 50K views and 1.8K likes in just 2 days.
Watch the video here -
https://www.youtube.com/watch?v=K1n9LNkjEak
4. Ola
Ola, the app cab provider dived into an intensive
campaign
by announcing that Ola was introducing ONN - Ola News Network where the cab drivers would provide people with information about the latest happenings.

Ola also posted news updates on their social media pages about a 10-hour long power cut in Niladri Vihar, the reasons for traffic snarls, whereabouts of 'Superstar Bhai' etc. All videos received 600+ views, 2.5K to 882K reactions and 100+ shares. This was indeed a great example of
video marketing
by the brand.
Watch the driver partner reporting on Superstar Bhai here:
https://www.youtube.com/watch?v=QlDCMaPSVCc
5. Mi
Xiaomi mobiles tried fooling their customers this April Fool's day by announcing the launch of a new smartphone with not 1 or 2, but 6 cameras!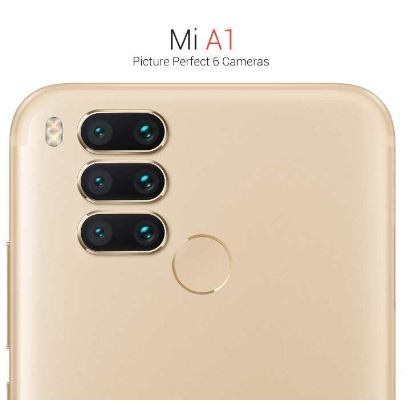 The prank post gathered 39K reactions, 3.8K comments and 8100+shares on Facebook. On Twitter, the post received 4400+ likes, 880+ retweets and 787 replies. Engagement was high with the audience weighing in on the prank and coming up with suggestions of their own!
Have we missed out on some great pranks by brands? Tell us in the comments section below - we'd love to hear from you!