April 13, 2018
E-Commerce Checklist – How to Start an Online Store
Around $300 billion revenue is generated every year through online stores and with 206+ million shoppers around the world, there has never been a better time to start an online business. Success depends majorly on what you sell, the offers that you make available to customers and the overall experience you provide. However, once you decide to start an online store, it is most important to get the basics right so that you can build on the experience rather than start from scratch again in the future.
Below is a checklist to guide you through the basics of setting up a new online store:
Structure your Business
Decide on what to sell:
After a thorough research on
market trends
, decide on what you want to sell. Keep demand in mind while deciding.
Name your business:
Choosing a unique name for your online store is the next thing you should do. Ideally, the name should be easy to pronounce and remember. Make sure that it not pre-owned by anyone else. Once you choose the name, register it. If possible, insert a 'keyword' to give it a
SEO boost
.
Securing the domain name:
Preferably, make your business name the domain name for your e-commerce website. But if you do not get a domain name similar to your business name, then, choose a domain name that relates to your business and is easy to spell.  
Build a website:
To build a successful e-commerce website, do the following:
Choose an

e-commerce

template that can be customized.

Build an interesting homepage or storefront featuring all your popular products so that the customer is eager to explore your collection.

Choose fonts, colors and images based on your brand aesthetic.

Write easy-to-read and understandable content. Make sure that you include an FAQs page with details about returns/ exchanges, delivery time and cost etc.

Keep your website simple and user friendly.

Add strong Call To Action buttons.

Make sure your website is

mobile friendly
[caption id="attachment_8380" align="aligncenter" width="562"]
http://17631-presscdn-0-73.pagely.netdna-cdn.com/wp-content/uploads/2014/01/westport-historical-society-case-study.jpg[/caption]
Update your store regularly
Shipping and Tax:
You can choose shipping options like 'free shipping' or 'no shipping charges' or 'free shipping on orders above a particular product price'.
For taxes, you can choose from 'no taxes' or 'same tax on all regions' options.
[caption id="attachment_8390" align="aligncenter" width="410"]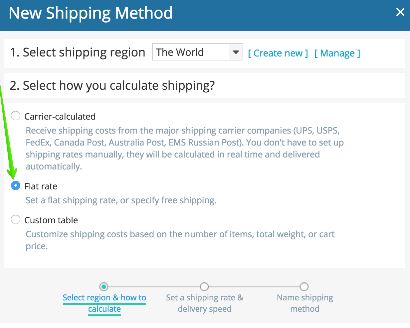 https://support.ecwid.com/hc/article_attachments/115009948229/flat_rate.png[/caption]
Language settings:
If your website is accessible globally, consider having different language settings. Having currency settings depending on geography is non-negotiable.
Track your orders:
Make it simple to view orders, track different shipping stages, view past orders and payment information.
Different payment options:
You can provide various payment options like debit card, credit card, mobile wallets, cash on delivery etc.
Automated emails:
Send automated confirmation emails regarding the customer's onboarding, purchase, shipping and delivery for good customer service.
Build Trust for your Customers
Accessibility:
Provide a valid email address, phone number and address (if you have a physical store). It will be an added advantage if you have a template based contact form making it easier for customers to contact you.
Transparency:
Make your 'About Us' page catchy yet honest. This is where you can strive to build a personal connect with people.
Customer reviews:
Invite customer to review your website/ products to build reliability.
[caption id="attachment_8388" align="aligncenter" width="556"]
https://www.amazon.in/KLF-Nirmal-Pressed-Virgin-Coconut/product-reviews/B0164FEEGU/ref=cm_cr_arp_d_viewpnt_lft?showViewpoints=1&filterByStar=positive&pageNumber=1[/caption]
Clear doubts:
Prepare answers for the most obvious questions in the form of FAQ sheets to reduce customer queries even before they occur.
[caption id="attachment_8381" align="aligncenter" width="430"]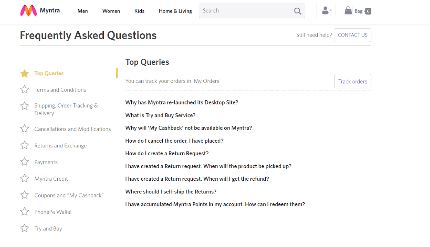 https://www.myntra.com/faqs[/caption]
Detailed shipping policies:
Put up detailed information about your brand's shipping policy and rules. This is especially important if you sell products globally.
24/7 assistance:
Use chatbots and even social media to connect with customers 24/7 in case they require any assistance.
[caption id="attachment_8379" align="aligncenter" width="559"]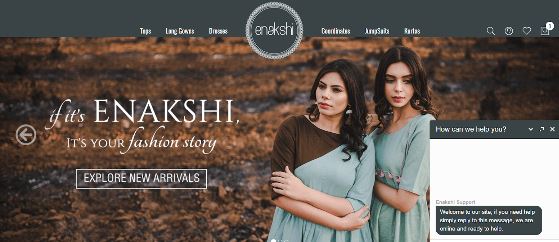 https://enakshi.com/[/caption]
Marketing and Promotion
Social Media Marketing:
Social media marketing
is very important. Channels like Facebook, Instagram, Pinterest are great ways to build awareness about your brand and even influence sales.
Seo Friendly:
To make your website accessible and visible to all, make sure that it is SEO friendly. Keep a track of website traffic, optimise functions and analyse behaviour in order to drive better ROI.
Blog:
Set up a blog page to supplement your content marketing efforts. If your blogs are of good quality, it will help with SEO and also bring quality traffic to your website.
[caption id="attachment_8378" align="aligncenter" width="527"]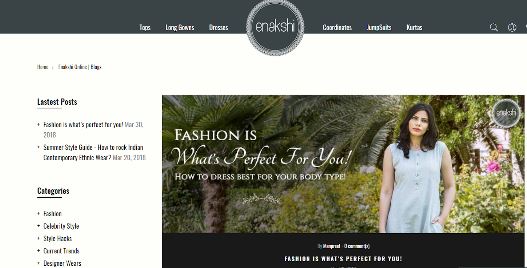 https://enakshi.com/blogs[/caption]
Run Ads on Google & Social Media
: These
advertisements
are inexpensive and effective ways of promoting your website. You can promote products, offers, sales, showcase new merchandise and even increase traffic on your website through paid campaigns.
Launching a website is the beginning of a new inning, not the end. Follow the above checklist so that you don't miss out on the small but important elements. For more tips and tricks, leave us a message in the comments section below.