What Women Want – Tips For Selling To Women
December 8, 2015
"If you are selling to women, you need to give them everything a man wants, then a little extra".
Selling to women? Pff… easy! If we've heard it once, we've heard it a million times. Women and shopping are like a moth to a flame. Careful! Before you judge too quickly, we might be easy prey but years of shopping has made us more than experienced in the art of buying.
Be it clothes, vehicles, electronics or food women form a significant part of the decision-making cycle. Neck to neck with men and closing up on the gender wage gap, women will hold at least half of the spending power.
Now it is up to marketers to look for tactics and tools to connect with the female market. So, brace yourself while we walk you through five ways to effectively market to women.
Get up close and personal
Let's face it. We're emotional creatures. Appeal to our emotions and you've won gold. Women want to feel like brands "understand" them. For many women, service is more important than the product. Divide your audience into smaller segments and study each segment separately.
Women spend a copious amount of time online browsing through company promotional pages, reading blogs, participating in discussion boards and sharing information with fellow consumers. Make sure your website and content speaks out to them and their needs
Engage women on Social Media platforms
A mix and match mood board? A hot selfie contest? Check! Women are active users of social media platforms like Pinterest and Instagram. This is the place for marketers to interact with women and maintain a long-lasting relationship. Engage women in contests, fun campaigns, etc., to grow brand awareness and click-through rates.
Make shopping entertaining
Everybody is busy, so are we. So make it easy and make it now. Relaxed shopping is the way to go, be it online or offline. Come up with fun and appealing content to entice us to buy your stuff.
Keep patronizing ads at bay
This is a generation of women ready to break all the molds. We don't forgive easy. Do not resort to sexist slogans and condescending creatives. Make your content charming and witty, we'll come in flocks.
Lend us your ears
Women love sharing their experiences just as much they love to shop. Sending out surveys and asking women to give feedbacks will make them trust you more and create a connect with the brand. Learning their experiences and tapping into their needs and requirements will make you a strong marketer to women.
---
The Mobile Friendly Google Updates
November 20, 2015
Google algorithm changes and updates have always made e-marketers and websites wary. But not all's lost with changes that were bought about earlier this year. Before some of you start panicking, let's get to know what exactly these changes are. These updates are nothing short of ways to make user experience as smooth as possible, Google is just trying to step up their game to the on-the-go trend that we seem to be fast transitioning to. So what are they and what do we do about them?
The what and why of the updates
On April 21st 2015, Google rolled out their algorithm changes that they had announced at the beginning of this year. The changes that came about was on a page by page and real time basis. The updates introduced does not have a clear degree to which a website can be mobile friendly, either you are or are not. But it certainly has its benefits, now mobile users don't have to continuously zoom in or tap their devices to view relevant and high quality content. And nobody has been complaining about the appropriately spaced tap targets and the avoidance of those annoying unplayable content and horizontal scrolling.
The how around the updates
So how do we get around these updates? Simple. Make your website mobile friendly if you want more traffic flocking to your site. If not already changed, websites are changing their algorithms to adapt to the pro mobile friendly approach from google. On the other hand Google seems to be keeping its promise of automatically re-processing your pages once your site turns mobile friendly. So will these algorithm changes affect our desktop traffic at all? Not at all, the changes pertains to mobile traffic only. The best way to check if your site is mobile friendly is by checking individual pages through the Mobile-friendly Test or by checking the status of your entire site through the Mobile Usability report in Google Webmaster Tools. After you've checked and figured out that you need to upgrade your site to be mobile, get started with the guide to mobile-friendly sites and for more customized advice it's always good to check out AdSense Multi-screen starter guide.
With lower mobile data prices and faster internet speeds, it's time websites bucked up their end in serving users with a smooth experience. Go user-friendly, Go mobile.
---
How To Do Mobile Targeting On Facebook Ads
August 16, 2014
Mobile device targeting on Facebook – Know how to target custom audience based on their mobile devices also known as device level targeting.
App developers and promoters have been using facebook ads to their advantage for quite some time now and Facebook does seem like the perfect platform for promoting your app – You are reaching your target audience bang on, why spend that money anywhere else?
Mobile targeting on Facebook
Facebook released a new upgrade or rather a feature called 'Mobile Device Targeting' recently and it seems like the "IT" thing for developers to get their hands on. This feature will help in targeting specific mobile devices, such as a Samsung Galaxy S5, iPhone 5s, or an HTC One.
For example, you can deliver ads to people specifically using a Google Nexus 10 with a minimum OS version of 3.0, who are on Wi-Fi. Previously you could only target iOS or Android, minimum OS version and Wi-Fi only users.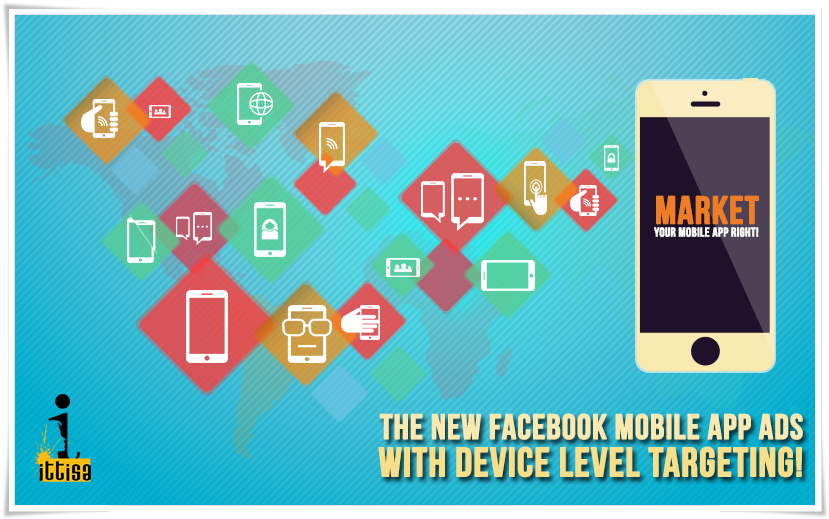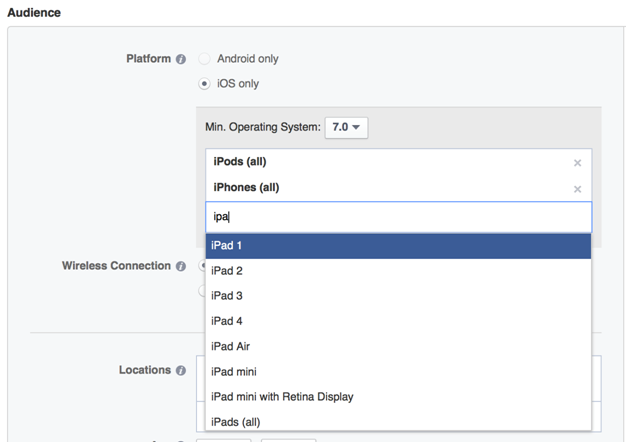 We have already been using Custom Audiences, through which you could choose the audience and even your Lookalike audience but this Device level targeting will add on a lot more value to the already existing targeting options.
With 'Custom Audience' feature, we already had the option to identify the 'most active' or 'highest value users' but now with Device Level targeting, it will help and target even more specific section among them ensuring a higher engagement and acquisition rate.
This feature will also help you gain "App Insights at the device level" and find out which devices are garnering the best revenue for your app. You can then target a section of your ads to that particular device.
This will also help reduce your app upgrade/development time by filtering out devices that are no longer compatible. Focus on the devices best suited to your app.
A few tips to make the most of mobile device targeting on facebook
1. Don't forget the creative element – Use relevant imagery of devices on ads when targeting. For example, use images of an iphone when reaching people on an iPhone and mention the mobile device or app store in your text.
2. Bundled ads – Create different ad sets with optimized bids and don't forget to use custom audiences and lookalikes to define your audience
3. Don't slice too thin – Adhere to the general rule of having an estimated audience size of at least 500,000 users for each ad.
Want to know more about 'Mobile Device Targeting' or looking forward to advertising your app on Facebook? Reach out to us at support@ittisa.com or on Facebook.
---