August 09, 2017
5 Best Unique Friendship Day Campaigns By Top Brands India
The world just celebrated Friendship day last Sunday, and one of the greatest witnesses to that celebration is undoubtedly social media. Be it selfies, stories, GIFs or videos, social media was there to see it all. Various brands launched their social media campaigns for Friendship Day to capture the attention of the audience and to make a mark.
Here are 5 of the best intricately crafted campaigns of 2017 that really made Friendship Day a happy one -
Cadbury Dairy Milk #RealDosti
Launched on: YouTube, Facebook, Twitter
Cadbury has always managed to strike a special chord in our hearts and this time was no different. This year's campaign, #RealDosti, urged friends to celebrate friendship with real friends in a real way, and not by just a touch on screens.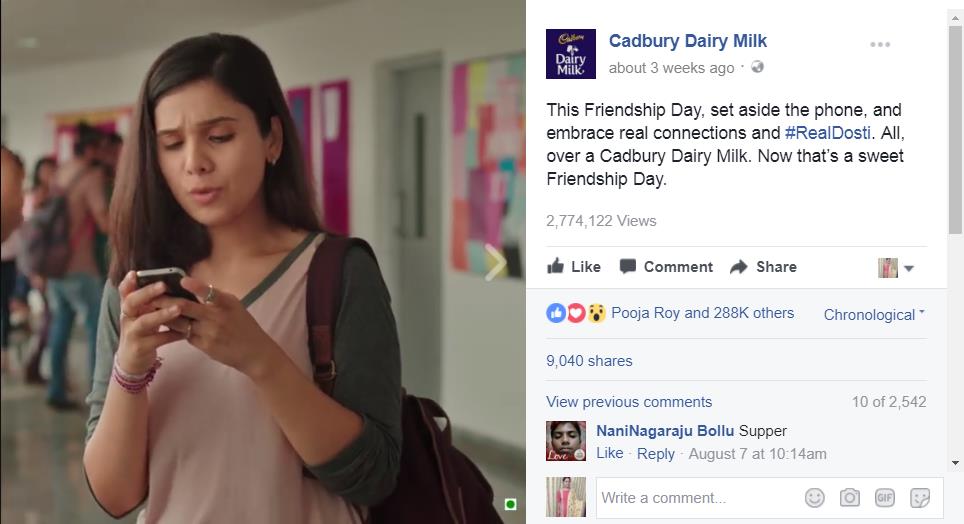 After all, a friendship band and a Dairy Milk as a gift brings more happiness than just emoticons of the same. On this special occasion, Dairy Milk also launched two new limited edition flavours – Cashew & Coconut, and Butterscotch. As a part of the campaign, Cadbury also partnered with MTV India to carry out an "Adda" at Sophia College, Mumbai where popular MTV icons interacted with the audience, followed by a performance by the Raghu Dixit Project.
Watch the Cadbury Dairy Milk #RealDosti Friendship Day campaign Video below:
Big Bazaar's Friendship day Campaign #RealBane Raho
Launched on: YouTube, Facebook, Twitter
Big Bazaar managed to touch the right chords with their campaign #RealBaneRaho. A gentle reminder of how social media is taking over our life, the campaign highlighted a conversation between a social media addicted daughter and her father saying that the real fun moments in life come when we actually do real things. And that some relationships deserve more effort than just sending a friend request. Watch the Friendship day campaign video below:
Dogsee Chew's Friendship Day campaign "Friend till the end"
Launched on: YouTube, Facebook, Twitter
The Bangalore-based
organic dog food
brand highlighted the unique bond of friendship that we share with our pets. Leading up to Friendship Day, they featured a few amazing best friend stories between humans and their pets. On Friendship Day, a short movie titled 'Friend till the end' featured on their Facebook page, which portrayed the story of unconditional love between man and his best friend – "You'll be mine and I'll be your friend. This campaign was launched by Ittisa. Know more about our
digital marketing services
& watch the beautiful story below:
Launched on: YouTube, Facebook, Twitter, Instagram
The micro storytelling platform, one of the current favourites among both writers and readers, came up with something as unique as their name. Apart from the tales marked as 'Open Letter' that featured on their page describing the various types of friends and friendship that all of us seem to have, they also rolled out a new format – TTT [Unsaid]. This new format explores the many little things that we want to say, but somehow can never manage to say it.
Vodafone India #LookUp Friendship day campaign
Launched on: YouTube, Facebook, Twitter
The #LookUp campaign by Vodafone India was initially launched on Valentine's Day, but after its popularity and success, the same theme was used for Father's Day and now Friendship Day. The campaign highlighted that while the Internet has eased the issue of connectivity it is it is actually distancing us from the people who are right in front of us. The campaign is an initiative to tackle phubbing, which is the term used for the bad habit of ignoring a person in front of you for a mobile phone. Which of these campaigns did you like the best? Tell us why in the comments section below. You might also like this list of the
top campaigns by Indian digital brands in 2016
.