Ittisa Recommends: 5 Ways to Make Work From Home Productive
March 24, 2020
With coronavirus declared as a pandemic, social isolation has become an important precautionary measure to fight the spread of the virus. Ittisa has also been working from home, with all of us self quarantining to protect ourselves and those around us.
Work from home may feel like bliss for some, for some it may be a terrifying thought while for others it's more simple – Netflix and chill! We think it's none of that.
Based on experience, here's our list of best practices to keep yourself sane and maintain your productivity at work in the time of Corona –
1. Don't Jumble up Your Regular Routine
Working from home means no commuting to the office, but that doesn't mean going straight from the bed to your laptop!
Instead maintain your daily routine just like you would while going to work. Wake up when you normally do, brush your teeth (yes please) and take a shower. Dress in proper clothes – ditch the pyjamas.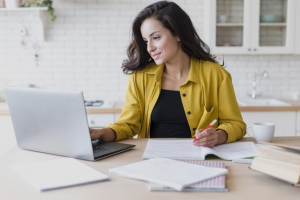 You ask why is this important? Being mindful of sticking to a routine prepares you for the workday by creating a distinction between lounging at home and actually working. If you have a 9-5 work schedule, stick to that. We know it's easy to lose track of time while working at home, but if you can't maintain a work-life balance, you are likely to be easily exhausted.
2. Create a Work Corner (not the bedroom)
In these uncertain times, when none of us really know when we will be able to go back to work, create a work-nook at home for better productivity. This place should ideally never be your bed. Reserve your bedroom for relaxation and sleep. Set up a workstation in a guest room, the dining table, or even a small desk and chair in your bedroom works if you don't have any other option.
Working at a desk will give you the feeling that you're working at the office, and also help maintain good posture and avoid distractions. Keep it tidy and set it up like you would in the office.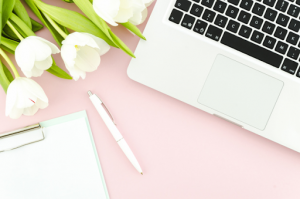 3. Don't Keep Sitting
Since there's no chance to walk over to a colleague's desk for a quick discussion and no friendly chai breaks – we tend to sit in the same place for longer hours. Be mindful and keep a check on how long you're sitting and make sure to get up and move every hour. A standing desk also helps.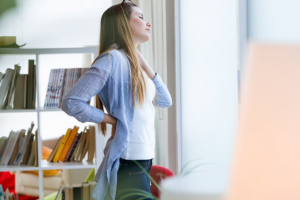 You're already saving travel time, so use the extra few minutes for some light at-home exercises to keep both your body and mind in shape.
4. Stay Connected With Your Team
It's true that you can't meet your colleagues but you can always stay connected. We, at Ittisa, keep in touch on Slack, while conducting meetings on Google Meet or Zoom. As a regular custom, we also set up regular video conferencing before we begin the day to stay updated, and ensure a smooth workflow.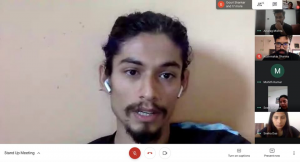 It is really important to communicate for inspiration, creativity and to maintain a sense of normalcy. The feeling of togetherness is sure to keep you motivated even when you're distant from the team.
5. Relax. Breathe. Get Some Fresh Air
Take a break, whether you have a KitKat or not.
Just like you take office breaks, it is important to take breaks even if you're working from home. Make the habit to get up and look away from your screen for at least 5 minutes every hour.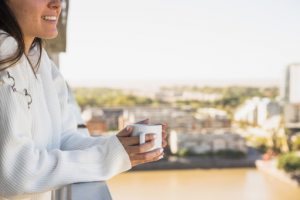 Taking small breaks will help you think more clearly, work faster and increase productivity. So spend a few minutes roaming in your balcony, play with your pet, water the plants or have some tea. And you never know, you may even have your 'eureka moment' while staring at your cat.
A Few Preventive Measures While You Work From Home –
1. Your smartphone, tab and laptop are most likely to be overused at this time. These portable devices carry more germs than you can imagine. Clean them on a regular basis, preferably with an alcoholic wipe. 
2. Wash your hands frequently for 20 seconds with soap & water. Alternatively, you can also use an alcohol-based sanitizer.
3.  Avoid touching your face as much as you can. Try writing "Don't touch your face" on a piece of paper and keep it at your desk to remain cautious.
4. Cover nose and mouth while sneezing & coughing, but only with a tissue. Else, sneeze into your sleeve or elbow, but refrain from using your hands.
Given the current scenario, social isolation, though difficult, is extremely important to slow down the spread of coronavirus. But we need to remember that we are in it together, and we need to fight it by being supportive, careful, alert and safe.
So let's give our best, even when it feels like we're in house arrest!
---
Introducing TikTok: The Trending Gen Z Social Media Platform
March 19, 2020
Ever thought of participating in the #SwagStepChallenge by Pepsi that garnered more than 4.5 billion views & 1 lakh user-generated videos on TikTok?
Think that's just a waste of time? Did you know celebrities like Tiger Shroff and Disha Patani had also participated in the challenge?
Introducing TikTok
:
Teens love it. Adults think it's a waste of time. You can find it funny, you can find it cringy, but you cannot deny its craze and popularity.
Move over Snapchat and Instagram, TikTok is the newest contender in the social media game. It is the most downloaded app in the world, with the motive "to capture and present the world's creativity, knowledge, and precious life moments, directly from the mobile phone. TikTok enables everyone to be a creator, and encourages users to share their passion and creative expression through their videos."
History of TikTok
2014 saw the introduction of the app Musical.ly that became very popular among the younger generation, 13 to 18 years old to be precise. The app allowed users to create dancing and lip-syncing videos. Musical.ly had 200 million + users by mid-2017.
A rival app to Musical.ly, Douyin was launched in China in 2016 by ByteDance. It was rebranded a year later as TikTok for international markets. Musical.ly was later acquired by ByteDance in 2017 and the two apps were merged together, under the name TikTok.
At present, TikTok is the 6th largest social network, available in 150+ countries, with more than 1 billion users. The app allows users to create comedy, short lip-sync and talent videos, with the option of filters, music, effects and easy edits.
TikTok in India
"India has the fastest-growing TikTok market with 467 million downloads."
Even after facing a temporary ban in India at the beginning of 2019, TikTok is considered to be the breakout app of the country, with regards to growth. A probable reason for its virality could be the fact that cinema, glamour and popularity have always been a fascination here. The mere idea of mimicking favourite stars, lip-syncing their dialogues or dressing up like them provides a sense of stardom to people that otherwise wouldn't have been possible.
Generation Z & TikTok
66% of TikTok users are less than 30-years-old, while 60% of the app's monthly users are between 16 and 24 years.
TikTok has managed to conquer the minds of youngsters in a way that no other platform has done so far. The creators chose users under 18 as the target audience while creating the app, by understanding the preferences and habits of Gen Z. With the ability to create as well as share such a variety of videos, the young generation now has a platform to creatively express themselves.
Millennials and GenX primarily use social media to remain updated with the latest news, share snippets of their daily lives or to share opinions. However, for Gen Z, social media is a place of pure entertainment, somewhere they can get rid of their boredom. It seems like they found the solution in TikTok – with funny video skits, memes, hilarious dancing to tracks, getups in weird costumes and awkward interactions.
Every social media app has a certain classification – Facebook for moms, Twitter for intellectuals, Instagram for the millennials and LinkedIn for professionals. Moreover, every platform has a dominant age group. For Facebook and Instagram, the largest user group is between 18-24 years, for Twitter, it is 18-29 years, and for LinkedIn, 30-49 years.
Where does this leave generation Z, the ones who are 13-24 years old? There is the option of Snapchat, but the platform focuses more on images and videos with camera filters and stories. TikTok, on the other hand, is much easier to use and users can instantly create and publish videos, which takes a little more effort on Snapchat.
What made TikTok the new social media sensation?
Here are a few probable reasons why TikTok rose to popularity –
1. Closing down of wine
Vine was a similar video creating app that had around 200 million monthly users. Moreover, 28.1% of the users were in the age bracket of 18-24. The app was shut down in 2016, and its user base migrated to either YouTube or TikTok. In other words, the void for short videos that was created with Vine closing down was filled by TikTok.
2. Variety
One of the biggest advantages of TikTok is you can post on any topic. Be it humour, photography, dance, fitness, music or travel – every category is available and also gets a lot of attention and engagement. Apart from that, TikTok can be considered to be a global app due to its variety of genres – be it Bollywood songs, hip hops, indie rockers or K pop. One can also create mashups in these sub-genres, which turn out to be both funny and engaging.
TikTok is a vast market for users who are looking for a distraction or some kind of micro entertainment sometime during the day.
3. Captures Interest
Gen Z has an attention span of 8 seconds while for millennials, it's 12 seconds. TikTok has a user experience that is to-the-point and visual. The app has successfully managed to grab the attention of youngsters with its extremely user-friendly interface and creative concepts.
What's popular among users on TikTok?
Though there is no fixed way to use TikTok, the most common formats popular among users include –
TikTok Trends: Trends or Challenges involve a popular hashtag or song. These trending tags encourage users on the platform to try dance moves or create their own version based on a particular theme. For example, Zomato started the #ZomatoRideToFame trend for their delivery partners to showcase their talent by singing or dancing. They even provided an incentive of prizes worth Rs. 1 lakh to encourage more participation. Even after not posting regularly or not having a huge follower base, Zomato achieved 339K+ views for the campaign.
Duets: A collaborative feature on TikTok, duets allow users to use another person's video and add themselves to it. It can be genuine collaborations, spoof, remixes and others.
Cringe Videos: Videos with awkward scenarios or performances that aim to make the audience cringe. These videos are always funny and embarrassing but tend to have high views. 
React Videos: The React option allows users to record their reaction while watching a video and then overlay it on the video they are watching to play alongside.
TikTok as a Marketing Platform
TikTok as a marketing platform has been slowly gaining popularity among marketers due to its content-based tools and techniques that ensure brand growth. The platform also helps target a younger audience, maybe even the ones you are unable to target on other social media platforms. Promoting a brand on TikTok is highly effective to get maximum reach and engagement with minimum investment.
As a social media marketing platform, TikTok provides a more relaxed and enjoyable user experience and can help build a strong follower base, increase awareness and get more people talking about your brand. Moreover, TikTok has been labelled as a platform to show your real side and authenticity – which can be a great strategy to rule on this platform. To know more about TikTok as a marketing platform, leave us a message and we'll get back to you!
---
6 Buzz Marketing Principles for Successful Internet Marketing
March 10, 2020
Buzz marketing is a technique which focuses on word-of-mouth communication or the potential of people to speak about the activities of a brand or it's campaigns, either through conversations among themselves, critics or through large scale discussions on social media platforms or groups.
The goal of buzz marketing is not only to make people aware about a brand but also to get people talking about it. There are few principles through which buzz can be generated for brands and if brands make use of such techniques, then they can surely perform better than others.
For buzz marketing, brands need to offer people something to talk about that will generate buzz constantly and consistently. Mark Hughes, the author of the book named Buzz Marketing unlocks the key to six basic principles of Buzz Marketing which can make brands successful and get people talking about them:
1. Taboo marketing:
Taboo refers to selling what people would rather not talk about or even controversial marketing. Brands unleash topics that give people a chance to talk about, debate or argue. This definitely creates a buzz but brands need to be careful to not do this too often otherwise the impact can be negative.
Example: 'Go Daddy' recently created an ad of an Israeli fashion model, Bar Refaeli kissing an IT person. It was a controversial ad that spread like a fire and got people talking. It drove more attention and engagement than most other ads.
2. Unusual or Unique marketing
:
Here, the goal for a brand should be to create content and strategize the positioning of its product. A brand has to perform something unique and different that has not been tried by others before so that people start talking about it.
Example: Ian Klein developed a dating website called OverweightDate.com for people who were overweight and looking for a dating partner. The news about this website was spread via word of mouth, online advertisements, flyers and usage of strong keywords. But by itself, a dating site for overweight people is a topic worth talking about.
3. Remarkable marketing:
The next way to stay ahead of competition is to do things in a remarkable manner. A brand should aim to create content and marketing strategies for a product or service of extremely upgraded and high quality. People tend to talk about things that are remarkable and extraordinary.
Example: Usually most ecommerce brands provide 15-30 day "Return Policy". But Zappos, an online brand came up with a "365 day Return Policy" and provided outstanding customer service that stood out and compelled people to talk about their brand.
4. Outrageous marketing:
Creating buzz is not a difficult task. But creating buzz with the appropriate content marketing strategy relevant to the brand is a major concern to look into. So while outrageous, the content should be related to the brand in order to truly generate awareness.
Example: 'Blendtec', a brand whose product is a blender, created a series of youtube videos showing different objects like iphones, marbles, balls turning into smoothies. This turned into a talking point and also kept a strong connection with the brand since the videos indirectly showed how strong the blenders are.
5. Hilarious marketing:
Creating good quality content that spreads like wildfire and gets people talking, is not as easy as making random viral videos. These videos or articles have to be funny and engaging while maintaining a strong relation with the brand.
Example: Jeff Gordon and Pepsi Max came together to produce videos which shows Jeff Gordon taking a salesman and a journalist on a high-speed car ride. The message that Pepsi Max wants to convey is that it is a diet cola in disguise of a regular looking cola.  
Toyota, created a funny 'Swagger Wagon' video which shows children and parents rapping together inside a minivan. This video received over 10 million views and through this video Toyota Sienna portrayed that their minivans are cool and unique unlike others.
6. Secretive marketing:
Businesses can generate even more buzz by revealing or keeping secrets. Revealing a secret involves letting a few people in on your secret. One of the ways a brand can use this formula is by revealing their behind-the-scenes experience to loyal consumers, which may create some credibility for the brand. The other way is to provide a sneak-peak of an upcoming product to a select group of influential people and making them a part of the campaign. To keep a secret means to let the masses know that something new is arriving but not providing the exact details.
Example: During the initial launch of Gmail, Google had decided to send invites to few people who could download and use their Gmail app. This developed curiosity around email-services because not all people could not download the app or use it. Here, Google was successful in creating a situation where people could not wait to be invited to use the app. This feeling of restlessness made people talk about it, thereby generating more buzz and inquisitiveness.      
Apple usually provides a hint of their new launch but does not let out all its details until its launch. This creates some kind of hype, develops interest and gets people talking about it when the product is finally released.  
For a productive and powerful buzz marketing campaign that will lead to a successful digital marketing campaign, at least two or more of the above principles should be combined and instilled in a single campaign. The content should be exciting and interesting so that it can generate buzz automatically. Buzz marketing is a great tool to create awareness, build excitement, invite opinions, drive traffic and increase sales for a brand. There are also some tips on buzz marketing that should be kept in mind during a buzz marketing campaign.   
---